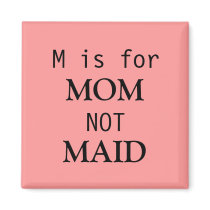 After taking Xavier to school this morning, I allowed Ashe to play some Wii without having to fight his brother while I started in on my morning chores. He grabbed Sorens Bumbo and sat down while I wandered off to wipe counters and clean the bathroom.
As I start to sweep I hear Ashe calling for me. Knowing J is on the phone in a meeting I walk over to him in order to keep the shouting to a minimum. This was our following conversation:
"What's up honey?"
"I WANT CHOMO MILK MOMMY."
"You're chocolate milk is on the couch behind you."
"YOU GET IT FOR ME MOMMY."
"Uh, no. You can get it yourself."
"NO MOMMY, YOU MY MAID. YOU GET IT."
"....... (through gritted teeth) I am
not
your maid. I am your Mom!"
"YOU NOT MY MAID?"
"No, I am not."
"OH!..... THAT'S RIGHT! YOU DADDY'S MAID!" He grins mischievously as I stand there open mouthed.
I retort back "I'm not
anyones
maid!!!" and stalk away to nurse my ego.
I think it's time to renegotiate my pay. /harrumph!