To all you bloggers it there: do you ever find yourself wishing for some new technology in which you could place a sensor on your temple that would record your thoughts and place them on a word document that you could retrieve later to help you write? I swear I get my best blogging tidbits when I'm heading to sleep, can write some of the most humerous quotes ever (in my insomniac mind at least ) but wake up and can't remember shit.
You techies out there, chop chop.
J and I had quite the interesting weekend. We had a family wedding to go to in the freezing corner of the country ( also known as Michigan ). What made it SRM worthy of being titled interesting was a couple of factors. The first being that I was going to see family members I haven't seen since I was eight years old. I was very excited to see my cousin Michael, who was the first to teach me how to play Simon. The ORIGINAL Simon.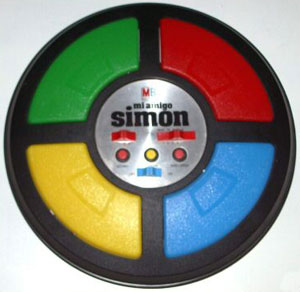 Oh yeah baby. My first intro to gaming.
Second, my brother and I were going to see our father, with whom we do not really get along with. Ok not quite accurate. If he wasn't our father, I think we'd get along with him pretty well. We all have a very similar and quirky sense of humor. But he was a craptastic father in every sense of the word. Still is. I haven't seen my father in over seven years, when my grandfather died, and one of my aunts insisted that I have three year old Xavier call my father Grampa. As far as I'm concerned, that's a title you earn, not automatically get by having unprotected sex. The kids have a grandfather thankyouverymuch.
With that in mind, adding into the equation a lot of pent up anger on my brothers end, vast quantities of alcohol, and the fact we Barans (my maiden name) are all obnoxious, equated to the possibility of an interesting weekend.
Last, but definitely not least, was the fact that while J and I have been together for 16 years, married for 13, no one on my fathers side of the family, aside from my cousin getting married and her twin sister, have ever met J. If you know one thing about me by now it's that I say what I want to say. That rings true for everyone who has Baran blood. We're all loud, social, and say what's on our mind. Annnnd, if you know J by now through my blogs, you know that he is as anti social and introverted as you can get. He hates being the center of attention, he hates small talk, he hates being surrounded by strangers.
This was going to be fun. For me, at least.
Because so much happened over the weekend I'm going to streamline it and add fun photos so that you, my fine readers, don't fall asleep while reading. Ready? WAKE UP!!! Ok, now are we ready? Good. Here's the recap:
Friday Night
:
After two 30 minute delays for our flights from Raleigh to Detroit (and by the way may I just say that I hate US Airs? I am so spoiled using Jet Blue for my travels) and stuck in stop and go traffic for a good hour, J and I arrive to our destination, the Bavarian Inn Lodge, located in Frankenmuth.
Think of a town that is modeled after mini Germany, and that's where we stayed. After dropping off luggage and freshening up, we headed to the Brewery where the rehearsal dinner was at for my first glimpse of the Baran family all together under one roof in over 20 years.
As we walked in, we were surrounded by cousins, aunts, uncles, etc, whom many I have not seen since before I had braces (or went through puberty for that matter) and J never met at all. The most common comment we received was that it was good to see that J was in fact, a real live person. It made me wonder if anyone had ever tried to pass off a blow up doll as a spouse. In my family, I wouldn't have been surprised.
My father stayed off to the sidelines, but even surrounded by multitudes of people, J looked me in the eye after he caught sight of my paternal parental unit. I stopped by to introduce the two of them while stifling a giggle.
My father was dressed as a pirate.
Can't make this shit up folks. Blowing blouse open down to mid chest with golden necklaces and black breeches, my father and husband finally met. A few drinks later, while tucked away in cozy quiet corner, J turned to me and whispered " I think I finally get you now." Thanks love. Kiss kiss.
Photo rendition of my father
Following the rehearsal dinner we headed up to someones room for an after party, which consisted of a lot of alcohol, my father pulling out a guitar and singing about vampires, and a lot of partying.
Saturday:
J and I hit Oma's Restaurant for home made German food for breakfast. While there, many of our family members wandered in looking bright and shiny eyed, with no traces of hang overs. I think I get that one particular trait from them, as it's rare I get a hang over. Yay! I found out that we left the after party a bit too soon, as my brother and father headed to the Fun Room, and proceeded to challenge one another in fighting a punching bag. From what I gathered, both of them lost. I would have paid mad money to see that happen.
We stopped by the local village shops to find souvenirs for the boys, grabbed some coffee with Baily's from the Gift Shop ( all gift shops should offer coffee with Baily's) hung out with some cousins, then got ready for the wedding.
My cousin Michael (the one who taught me Simon) officiated over the wedding for my cousin Emily. He started out with the familiar marriage quote from Princess Bride:
Can I just offer props to him for getting that accent down absolutely perfect. I wondered how long it took him to practice in front of a mirror.
After asking the groom if he knew he was marrying a Baran and would entertain the crowd for a bit if he wished to reconsider this ultimate decision, and after Emily growled out through clenched teeth that she would "submit" to her husband, the two love birds were finally hitched and we celebrated.
Congratulations Emily and Kevin!
Try and imagine me, multiplied by 20, partying in a giant room ready to celebrate a very happy occasion. Try and imagine 20 of me, with loud music and a big dance floor. Try and imagine 20 of me surrounded by free alcohol.
Now you can get a clear idea of what the reception was like. Surrounded by spouses and other stranger people who do not share our genetics, my family ripped up the dance floor, turned the wet bar into a desert, and had a ball. My father even dressed in a seventies tux, to which my brother and I asked if it was the same one he married our mother in. He couldn't recall. And we didn't stop partying when the reception was done. Oh no. We headed up to my brothers room to continue the party.
I stole my brothers Marine hat. He kept leaving the damn thing on my chair.
J and I were headed there ourselves except we ran into a tiny snafu. While I went outside to have a quick smoke, J ran to our hotel room and somehow found himself locked in the bathroom. I got a phone call from him, asking to grab the hotel staff. Of course the first thing I ask is if he tried the door handle. because yes, we were THAT drunk. He had.
30 minutes later, we've got an impromptu party down in our room, drinking alcohol and cheering on the maintenance guy while he tries to rescue my husband. My brother, hosting the after party, left his party to come down and support J, while also trying to get the hotel staff to let us have the door knob as a souvenir. They politely declined, but once J was safe (huzzah!) they did give us a bottle of champagne. Which we took to the after party and celebrated until dawn. Or 3 am. I lost track of time.
And that, my friends, was our crazy family wedding weekend.
One cool thing that came out of this crazy ass weekend was that we of the younger generation realized that seeing one another every few decades kind of sucks. We've only gotten together for weddings or funerals. unfortunately by now, everyone is hitched, and we'd rather not wait for someone to kick it. So instead of waiting for one of those occasions to happen, we proposed a family reunion. Since we all live scattered across the country, from San Fran, Denver, Detroit, Omaha, and here in Raleigh, we're setting it for 2014 so everyone can get their finances in order. It should be interesting to see if we actually get off our asses and do this. I'd love to sit on the beach surrounded by my crazy family, drinking margaritas while the kids bury my father under the sand.